​H u r r i c a n e D A S H B O A R D
Genesis of a hurricane
Like all tropical cyclones, hurricanes are fueled by heat at the ocean's surface, spiraling outward from the low-pressure core called the
eye
. To become a
hurricane
, a storm must first graduate from a
tropical depression
(winds below 38 mph) to a
tropical storm
(winds 39-73 mph), and then achieve sustained winds above 74 mph.
Developed Structure of an Atlantic Hurricane Hurricane:
Hurricanes are sorted into five
Categories
based on wind speed. According to the National Hurricane Center, hurricanes rated at
Categories 1 and 2
(winds 74-110 mph) range from "very" to "extremely" dangerous, while those reaching
Categories 3, 4, and 5
(winds above 111 mph) produce damage from "devastating" to "catastrophic."
Hurricane Season
lasts six months
,
from June 1 to November 30, with peak activity in early September. A
Hurricane Watch
indicates that hurricane-force winds are
possible
within 48 hours, while a
Hurricane Warning
means that such winds are
expected
within 36 hours. Similarly, a
Storm Surge Watch
denotes
possible
life-threatening flooding within 48 hours, and a
Storm Surge Warning
cautions that
deadly flooding is
expected
within 36 hours.
To maximize your safety, authorities recommend gathering supplies and strengthening your home
long before a storm is expected, so start
now
!
Check out FEMA's hurricane preparation guide here
,
and learn about the local experts at J.P. Roberts Company here
.
Explore below to see live ocean conditions, check for current cyclones, and learn about past hurricanes.
---
Ingredients for a Hurricane
Moist Ocean Air

Current Humidity (%)

High Winds at the Equator

Current Winds (mph)

Ocean Temperatures Above 80°F

Current Sea Temperature (°F)

Low Air Pressure

Current Pressure (Hg)
---
CURRENT CYCLONES
Straight from the experts at NOAA, this map shows all tropical disturbances in the Atlantic.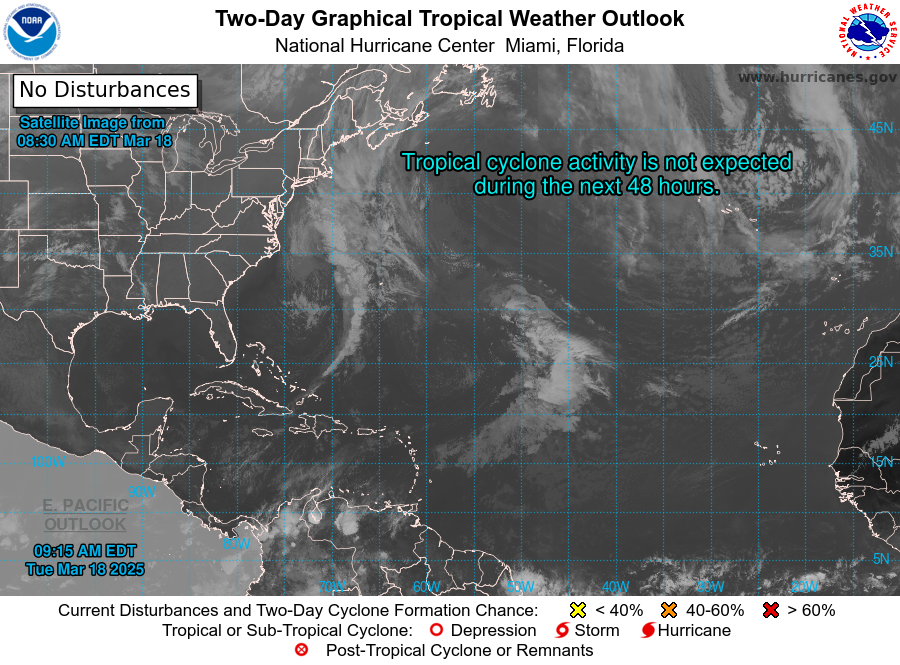 ---
Recent Trajectories
2018 Atlantic Hurricane Season
Unusually warm waters produced the third consecutive year of highly destructive hurricanes
Hurricanes: 8 • Damage: $50 billion • Fatalities: 173
​Hurricane Michael
The first U.S. Category 5 landfall since Andrew (1992)
Sustained winds: 160 mph
•
Damage: $25 billion
•
Debris: 44 million lbs
• Fatalities: 74
---
A century of cyclones
Protect Your Home
Locally owned and operated for three decades, we proudly serve
Franklin and surrounding Florida counties.